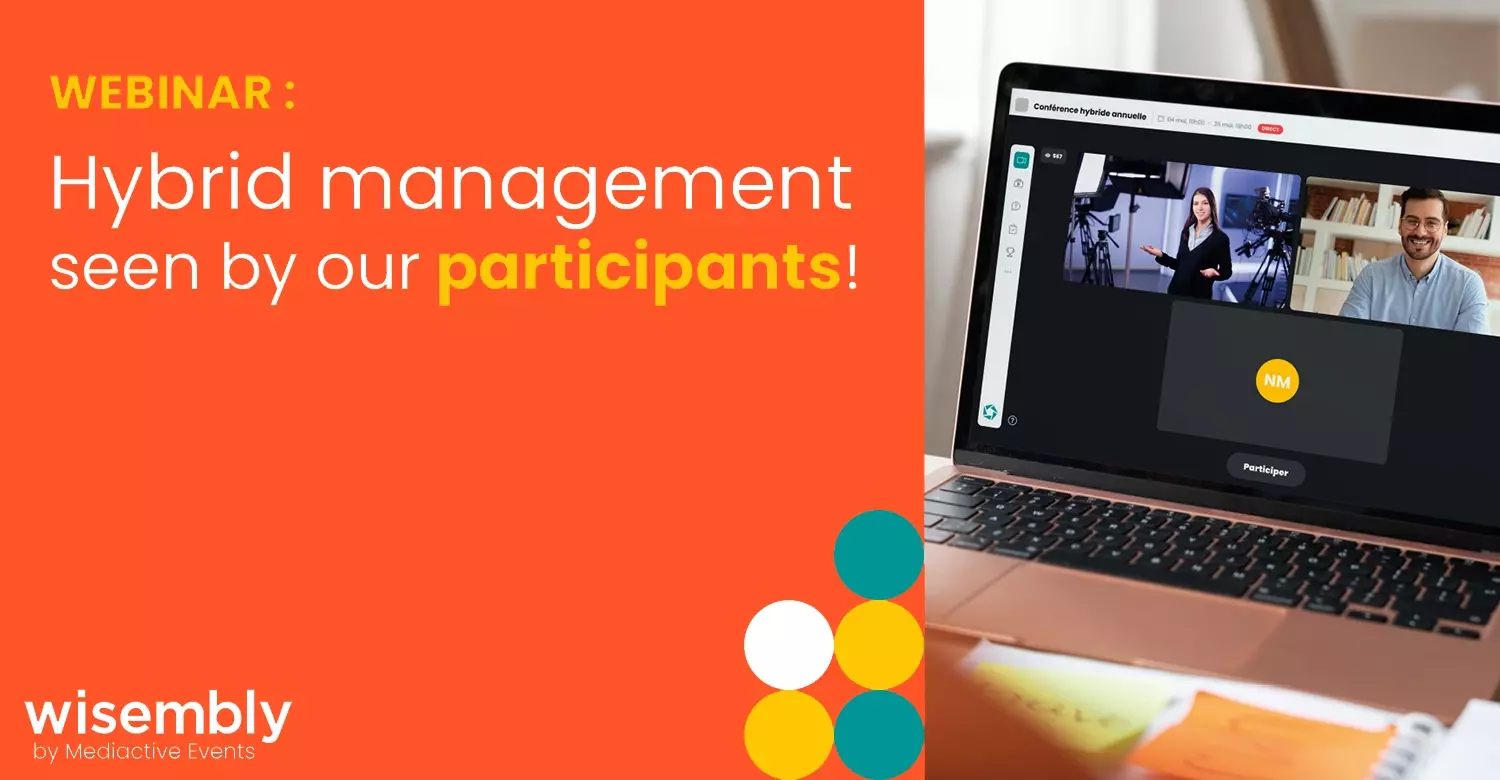 On Thursday, October 28th 2021, our Webinar was held on the theme: "the keys to successful management in hybrid mode"… A success, since you were nearly a hundred to join us live! 
Our speakers, Raphaël Boukris (Chief Revenue Officer & Co-Founder at Didomi) and Jimmy Gelsomino (Founding Partner at Enooia), gave a brilliant performance to this interactive event organized in hybrid format, directly on our Wisembly platform. The impact of the health crisis on management, remote work, and the commitment of remote teams were just some of the issues and questions that we addressed together. Stay tuned, because all these topics will be the subject of a future article!
In the meantime, we wanted to come back to the results of the different interactive polls that animated this webinar :
What is a hybrid?
While for some (including us at Wisembly!) hybrid is THE format of the future, for others it is still synonymous with the unknown. A trend we tried to probe at the start of the webinar:
An event format (69%)

A car (38%)

The unknown (15%)
When you're in remote, are you more…
Lack of a work/life boundary, or freedom of organization and productivity? Remote work divides, makes people talk and the needs are specific to each one. In remote, 40% of you confess to be part of the "sleep, work, sleep" team, and just as many confess that you are both in the office… And in the kitchen! Among the less assiduous, 6% of the respondents confessed to being "more TV than work" and 20% for the "other" category.
What about hybrid management?
For 68% of participants, hybrid management is the future, while for 31%, it is still a vague process. This new type of management requires trust, flexibility and committed teams. No, revising an entire process that has remained unchanged for years is not easy; but yes, with the right tools it is possible! 
Meetings, the bane of remote work?
Of course, being in remote requires the development of new types of communication. When we don't see each other in the corridors or at the coffee machine, meetings take over… To the detriment of our schedules! You were 45% to estimate that you have too many meetings – which are nevertheless effective for three out of five people.
→ Fortunately, there are tools to energize those meetings. And since only 50% of you said you've already tried one, let us introduce you to Wisembly! With our platform, no more endless meetings and loss of attention from your participants: boost your exchanges thanks to our different interactive modules… Whether it's face-to-face, virtual or hybrid!
"Interesting", "future", "educational", "great"… These are the participants of the webinar who closed it with our word cloud module, and their feedback was unbeatable. So once again, thank you all for making this event a success!
See you soon,
The Wisembly team